The ATECEA Network provides a prompt and cost-effective nationwide Vehicle Inspection Service for our Clients. Our Network of Motor Assessors & Engineers ensures that all areas of the 32 Counties of Ireland are comprehensively and efficiently covered by Experienced, Qualified & Passionate Professionals.
The Network has over 25 regionally located associates all of whom are dedicated Independent Assessors & Engineers; they are all members of accredited professional organisations.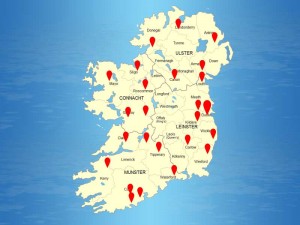 Our Members comprise S.Q.I.'s (Suitably Qualified Individuals), as recognised by the Dept. of Transport and the Road Safety Authority in relation to Roadworthiness, Conversion and Modification Issues, as well as members of the I.R.T.E., the I.M.I. and the I.A.E.A.
Our members are also strategically located to ensure a country-wide and prompt response service is available to our Clients so any unnecessary travelling costs and inconvenience are minimised. Also our ATECEA engineers' qualifications, including the I.A.E.A. and the F.I.E.A., are recognised in the UK and a variety of European regions enabling us to deliver our quality service overseas.
Our Team Approach, together with our strong Management & Upskilling Programme, ensures the best possible service and expertise is made available to all our Clients. Also in an effort to facilitate a high quality Technical Assessment and Inspection Service we ensure the latest Technology & Concepts are embraced at every opportunity and level. These include but are not limited to the use of:
Computerised Estimating & Repair Method Programmes
Vehicle History & Valuation Systems
Through our single-point of control at our Dublin Office, all Assessments and Reports are quality and audit controlled by our experienced Duty Engineers ensuring consistency of high quality Service & Presentation.
ATECEA has strength in numbers due to our engineers' specialised qualifications, skills and pool of knowledge. We provide clients access to our exclusive members in our countrywide Network. We offer an excellent service by taking advantage of our individual members' vast local and general industry knowledge.
---
Get in contact with ATECEA today to find out more or engage the services of our highly skilled and greatly experienced nationwide team of engineers and assessors. You can call us on 01 466 6366 or e-mail us at: info@atecea.ie